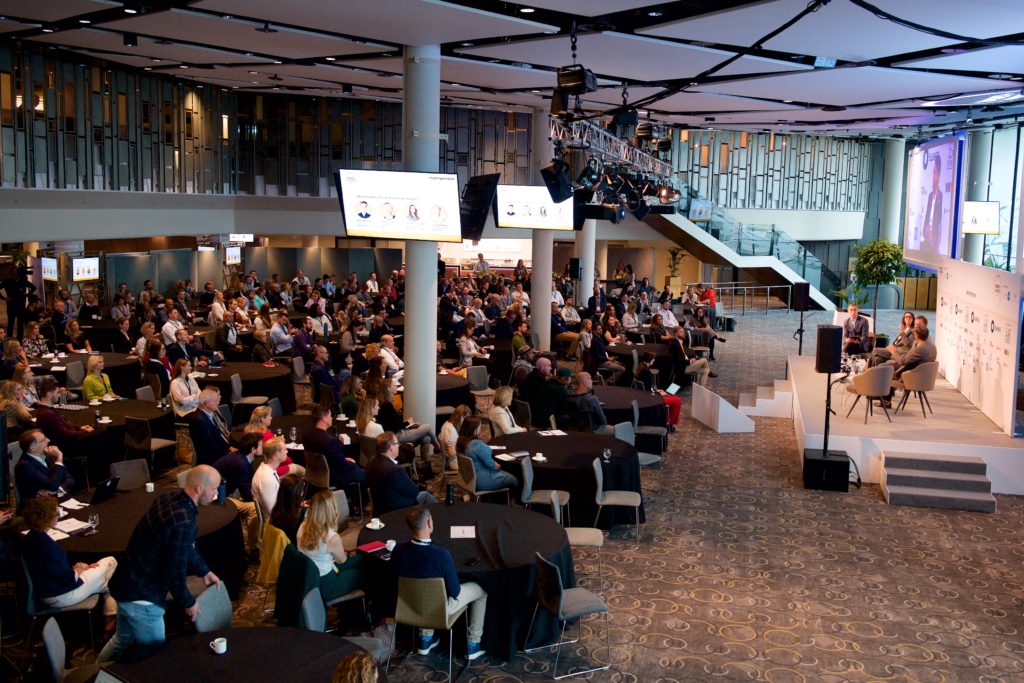 Globally Leading Sport Sustainability Summit Convenes At Wembley Stadium
6th October, London: Sport Positive Summit 2022, the leading global Summit that brings together sport stakeholders from all over the world to support positive climate action and ambition, convened on 4-5 October at Wembley Stadium.
Now in its third year, the Summit, held in collaboration with the United Nations Climate Change and the International Olympic Committee saw over 400 attendees come together in person and our 100 online, to increase action and ambition on climate change.
Over 70 international high-profile speakers from sport organisations, governing bodies and research institutes spoke to the global audience on the effects of the climate crises on the sporting world and its responsibilities to take climate action.
Aligning with the United Nations Sport for Climate Action Framework principles, the outcome of the Summit provides a supportive platform where sport organisations and individuals can learn from each other, disseminate good practices, develop new tools and bolster collaboration within areas of mutual interest.
"The sports and sustainability sector has moved on apace in the past couple of years, and it was a wonderful moment for the sports industry to be together in person, enable partnerships and collaboration and continue to increase ambition" said Claire Poole, Founder and CEO of Sport Positive Summit.
Collaboration was one of the stand-out themes amongst the discussions. This message was reinforced by the United Nations Climate Change.
"It is not possible in an integrated society for one company, or one sports organisation, or one governing body to solve this problem. We are building a team of wider industries and each one can drive the other" said Conor Barry, Head of Stakeholder Engagement at UNFCCC.
Whilst organisations look to implement environmental sustainability initiatives within their operations, a focus lies on the strategies and activities to be authentic, meaningful and substantial.
"If we do it [climate actions] authentically, we send a very strong message to our audience. It needs to be something more meaningful and substantial" mentioned Julia Pallé, Sustainability Director at Formula E.
In attendance at the Summit were numerous athletes who are central to sport driving the change we need to see, who must be involved in environmental social initiatives from the start.
The narrative when communicating with stakeholders has to change. "97% of communications is doom and gloom. We have to speak about solutions. They have never been as accessible and available as they are now" explains Jeremy Casebeer, Professional Beach Volleyball Player.
The day before this week's Summit began, attendees had the option to visit the Tottenham Hotspur Stadium to join a workshop from NFL Green, Wimbledon Championships and The Kia Oval Cricket Ground for behind-the-scenes tours into each of the stadia's environmental sustainability initiatives. The annual general meeting of the UN Sports For Climate Action Framework also took place onsite.
Wembley Stadium, host of the Summit, has numerous environmental initiatives of its own and holding the prestigious international standard of sustainability in events, ISO2021, England's national stadium was a fitting venue for the two-day event.
The Summit had a virtual option for attendees that didn't wish to travel. Those who joined in-person were served a plant-based menu, issued with aluminium bottles and filtered water provided by Water Partner, Bluewater, signage was minimised as far as possible and any used onsite was made of Kavalan to be recycled. Public transport was encouraged with the vast majority of UK and mainland European based attendees choosing to travel by train. All unavoidable emissions from attendee travel will be offset.
Whilst the Summit took place entirely online due to the COVID-19 pandemic for the past two years, the aim for 2022 was to ensure that the event was back in person, bigger and better.
In doing so, Sport Positive Summit collaborated with BBC Sport in holding the first ever BBC Green Sports Awards, honouring outstanding activism and initiatives from sports organisations and individuals alike, who make a positive impact on the environment and communities.
The winners of the inaugural awards were:
Evergreen Athlete Award – Leilani Münter, racing driver and environmental activist
Young Athlete of the Year – Morten Thorsby, professional football player at 1. FC Union Berlin
Ambition & Impact Award – SailGP
Teamwork Award – Jadir Taekwondo Association (AJTKD)
Athlete of the Year – David Pocock, former professional rugby player
Whilst Sport Positive Summit is over for another year, the work of Claire Poole and her team to increase action and ambition on climate change does not stop there. The steps of planning Sport Positive Summit 2023 have only just begun.
To find out more about the work of Sport Positive Summit, visit https://www.sportpositivesummit.com/