Sky Sports Announced as Sport Positive '23 Lead Media Partner
14th August 2023, London: Sport Positive Summit 2023, in collaboration with UN Climate and IOC has today announced Sky Sports as Lead Media Partner.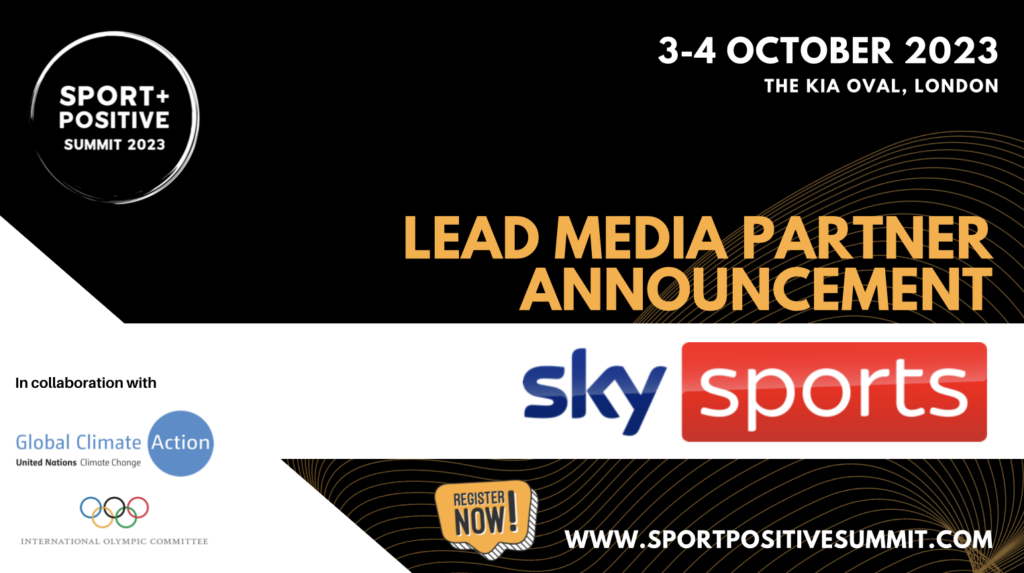 Taking place at Kia Oval on 3-4 October, Sport Positive '23 is the globally leading Summit where the sport industry convenes to increase action on sustainability, climate change, environmental justice and biodiversity. Attended by 500 people in person, and more online; sports leaders from all over the world join to connect, learn and get the latest industry information, delve into deeper discussions and be inspired.
Sky Sports is a natural Lead Media Partner for the leading Summit; as the first broadcaster to sign up to UN Sports for Climate Action (with whom the Summit is deeply connected with), with strong commitments to climate action – both on and off screen – and ongoing campaigns such as this year's 'Travel Green' initiative, aimed at inspiring sports fans to take low-carbon transport options for those heading to The 151st Open, The Hundred, and the FORMULA 1 PIRELLI GRAN PREMIO D'ITALIA 2023
Through the partnership, Sport Positive '23 and Sky Sports will collaborate more deeply on storytelling, education and awareness-raising, to support and drive progress both within the global professional sport industry and by connecting with spectators, viewers and fans.
Of the partnership, Sport Positive CEO, Claire Poole said, "We have had the pleasure of collaborating informally with Sky Sports over a number of years, through news, documentaries, podcasts, storytelling and connecting the dots on industry progress. It is a natural progression to have Sky Sports as our Lead Media Partner now, with huge potential to keep pushing the message further and faster."
Steve Smith, Executive Director, Content of Sky Sports went on to say, "Climate change is impacting the sport we love. Droughts and floods affecting play means we need to act now. That's why we launched our Summer of Sustainability campaign with the ECB, The R&A and Formula 1, encouraging fans to reduce their carbon footprint when travelling to sports venues."
"From hosting the world's first net zero carbon major football match, Game Zero, to co-creating Green Football Weekend, we're committed to reducing the environmental impact of sport, both on and off screen. We all need to work together and have broad support across the industry to fully protect sport from climate change, and that's why we're particularly pleased to be partnering with Sport Positive as a way of helping achieve that objective."
In February 2020 Sky set its commitment to be net zero carbon by 2030, two decades ahead of the government's target. To get there, Sky will cut the carbon emissions created by the business, its suppliers across the world and from the use of its tech products, by at least 50%.
Sport Positive Summit 2023 takes place on 3-4 October 2023 at Kia Oval in London and registration is now open, early bird pricing ends 15th August: www.sportpositivesummit.com 
***
About Sport Positive
Sport Positive supports the global sports community to increase their ambition and take action on climate change, sustainability, biodiversity and environmental justice. We work tirelessly to connect industry stakeholders globally, host an annual Summit in collaboration with UNFCCC and IOC, research and share environmental sustainability data via our Leagues, host The Climate of Sport Podcast, share a bi-weekly intelligence news bulletin, share industry news via social media and lead the conversation internationally via mainstream media and events. If the conversation is about sport x sustainability globally, we're usually not far away.
About Sky
Sky is one of Europe's leading media and entertainment companies and is part of Comcast Corporation, a global media and technology company that connects people to moments and experiences that matter. At Sky we Believe in Better. It's in our DNA.
We're famous for innovation. We offer streaming services NOW and WOW; the world's smartest TV, Sky Glass; Sky Stream, the new, easy way to get the Sky Glass experience on any TV; and the best aggregation platform, Sky Q. We provide connectivity you can count on in mobile, and fast, secure, reliable residential and business broadband.
We're Europe's premium content producer. We create award-winning original content, produce the biggest live sporting events, and we provide free access to news and the arts.
We believe that we can have a positive impact on society, by supporting and creating tens of thousands of jobs, addressing digital inequality, being a diverse and inclusive employer, and becoming net zero carbon by 2030.