Access to Kia Oval is Easy by Public Transport:
By London Underground, trains, coach, cycling and buses: https://www.kiaoval.com/contact-us/getting-to-the-kia-oval/
See map below for train, underground, bus, Santander cycles (to hire), bike parking locations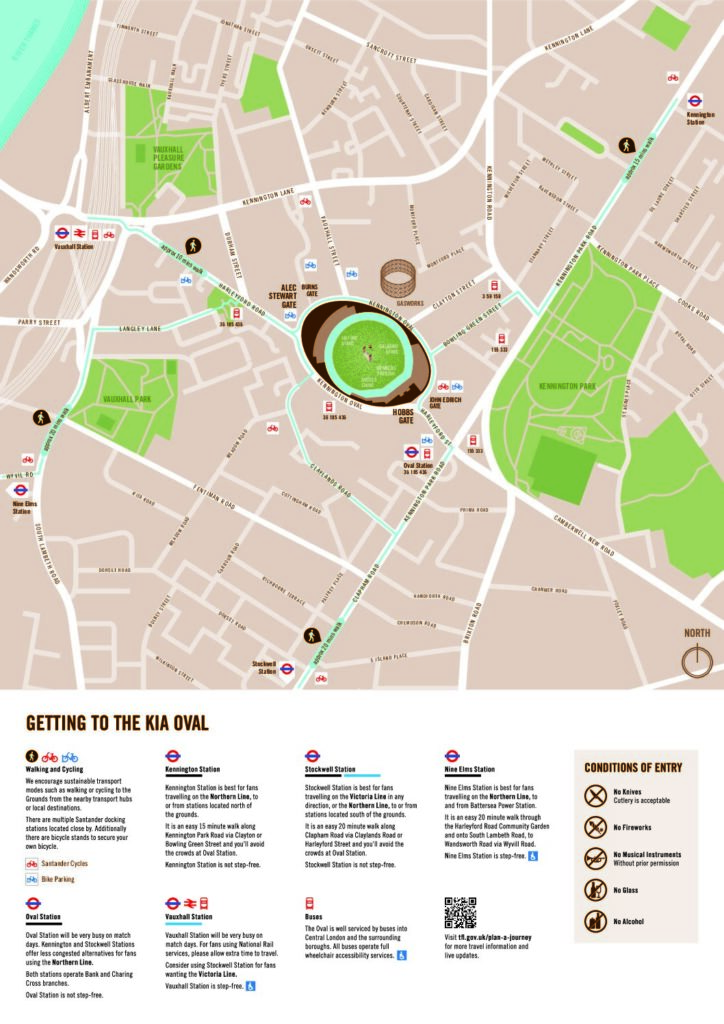 Rail & Tube Strike Planned For Wednesday 4th October – PLEASE READ
A rail strike has been tabled for Wednesday, 4th October that will affect a number of services in the UK, find out more here.
23/9 UPDATE: Unfortunately London Underground workers have now also decided to strike on 4th October. We know many of you are staying locally for the Summit, and may have already made arrangements that means this won't impact you, but for those that planned to travel within London ion 4th, please read on
The Summit will go ahead as planned. Our first day – Tuesday 3rd October – will be unaffected. However if you planned to use national trains to arrive or depart from the Summit on Wednesday 4th, please be aware.
To reduce the impact experienced, please consider:
If you are travelling within the London area

Using buses – The Kia Oval is well connected via many bus routes, there is also Santander cycle spots nearby and bicycle parking

To see where you are going and routes available by bus and times, use: https://tfl.gov.uk/plan-a-journey and select 'Bus Only'
There is car parking options include EV charging near the Kia Oval,  you can see options here or use the JustPark app 
For those travelling to airports

The largest central London coach station is London Victoria (see below) and you can travel by bus from the Oval. The number 36 bus goes every 10 minutes or so, and takes about 10 minutes. Please allow plenty of time, as the roads will be busier due to tube strikes

Heathrow Airport:

National Express coaches

will be running, please make sure you book at seat on your preferred coach, as these will be busy

Gatwick Airport:
Stansted Airport:
Luton Airport: Coaches go from Paddington Rail Station to Luton Airport 54 times a day and the number 36 bus goes every 10 minutes or so from Oval direct to Paddington, and takes about 35 minutes. Please allow plenty of time, as the roads will be busier due to tube strikes
Taxis: You may wish to consider pre-booking a cab via Addison Lee

, Uber, Wheely or a local cab company to connect you to other modes of transport
For those travelling within the country
For those who have flexibility to avoid travelling on 4th

There are plenty of budget hotels and Airbnb rooms available in the central London area.

We will arrange an additional informal food and drinks meeting place on evening Wednesday 4th at The Beehive pub near Kia Oval so you can make the most of the additional night – more info to follow
For those who decide they are unable to travel on this day due to the impact

All content except for the Roundtables will be live-streamed and you can gain access via the event app virtual platform Brella